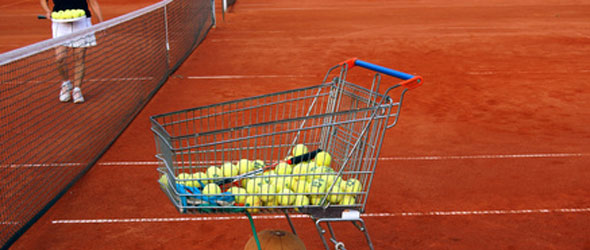 The Institute of Groundsmanship (IOG) has formed a collaborative relationship with the Tennis Industry Association UK (TIA UK) to work on joint initiatives to benefit their respective memberships.
Following recent talks between the two organisations, a number of areas of mutual interest have been identified where co-operation will help drive joint initiatives, particularly in terms of research and education as well as the provision of expert turf care advice via the TIA UK's new Tennis Force scheme that provides preferential access to a range of high-quality products, services and specialist consultancy.
TIA UK is the only legally-recognised trade body serving the needs of all tennis business, promoting professional growth and fostering economic vitality. It represents over 60 member companies throughout the country, ranging from multi-million pound corporations to individual entrepreneurs, all of whom care and depend on the future of tennis.
"I am delighted that the IOG and the TIA UK have pledged to work more closely together," says Geoff Webb, IOG Chief Executive. "We will be able to create opportunities and help raise the profile of both organisations.
"In particular, our recently much-enhanced Turfcare Advisory Services should prove of great interest to Tennis Force subscribers, while our members who are groundsmen at various tennis clubs will also be able to benefit from the scheme.
"TIA UK members will also be able to benefit from the IOG's market-leading provision of training and education; a range of courses are available at vocational and non-vocational levels for all abilities, from basic taster courses and apprenticeships through to Foundation degree level."
Among the IOG's most high profile members is Eddie Seaward MBE, who is Patron of the IOG and the Head Groundsman at the All England Lawn Tennis Club. Head Groundsman Designate Neil Stubley – who will take over the reins from Eddie after the 2012 Olympics – is also an active IOG member.
Tennis Force is a member-focused service designed to assist tennis clubs, schools, parks venues, organisations and coaches to improve the business of tennis. The scheme complements and is a natural extension to The Tennis Book, the TIA UK's directory of member products and services.
Directly linking the industry with registered users, Tennis Force offers a menu of selected high-quality products, services and consultancy advice at preferential rates or special conditions via TIA UK membership – plus a free Resources helpline that provides information on the British tennis industry, tennis statistics and signposts to sources of tennis-related data.
"The TIA has pledged to improve communication throughout the industry and the inclusion of the IOG as a collaborator is greatly welcomed," continues Steve Matthews, Chairman of TIA UK and Sales & Operations Director of David Lloyd Leisure, who also serves as an LTA Counsellor.
He adds: "The IOG is effectively the governing body for sports turf groundsman and the lead body representing its members and the turf care industry, which includes artificial turf, and we look forward to developing our relationship on behalf of the tennis trade."
In addition to Tennis Force, the TIA UK's Research Project is high on the agenda for future talks. "The more organisations we can draw into research, the more robust and meaningful will be the results," says Phil Sandilands, TIA UK Board Member charged with headlining the initiative. "I am also looking forward to developing these ideas with Geoff and the IOG team."